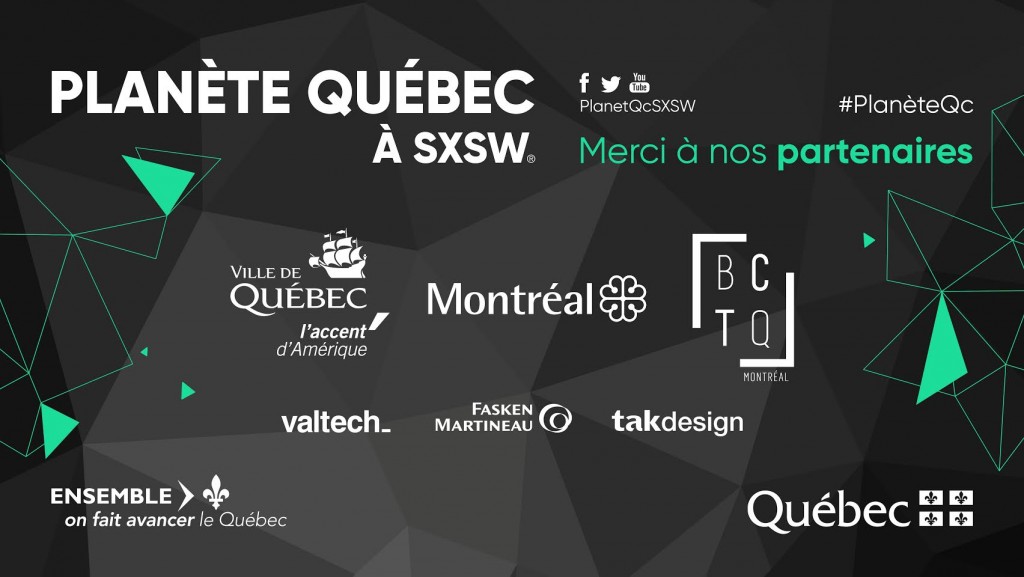 South by Southwest: The largest Quebec delegation to date!
Québec, le 17 février 2017 – Planète Québec présentera cette année sa plus grande délégation québécoise à ce jour lors de l'événement international South by Southwest (SXSW), qui se déroulera du 12 au 15 mars à Austin, au Texas. Une centaine de participants québécois sont attendus pour l'occasion, dont une cinquantaine d'entreprises et d'organismes provenant de différents secteurs d'activité, tels que la réalité virtuelle, l'Internet des objets, le transport et la culture. Ils représenteront ainsi le savoir‑faire technologique du Québec.
La mission Planète Québec
L'objectif de cette mission, réalisée en collaboration avec la Ville de Montréal, la Ville de Québec, le Bureau du cinéma et de la télévision du Québec, Fasken Martineau, Tak Design Industriel, Valtech et Volume7, est de promouvoir à l'international l'entrepreneuriat technologique, la capacité d'innover et la créativité du Québec, afin de favoriser le développement d'affaires.
Les gagnants de "En route vers SXSW"
Hier soir ont été désignés les cinq gagnants de la tournée "En route vers SXSW", organisée par Les soirées Mangrove, Les Offices jeunesse internationaux du Québec (LOJIQ) et Export Québec. Il s'agit de
Smart Halo
,
Locketgo
,
Brew-it
,
Lepointdevente.com
et
Time Passport
. Les cinq entreprises récipiendaires se sont vu remettre chacune une bourse afin de leur permettre de prendre part à l'édition 2017 de South by Southwest.
Faits saillants L'événement international SXSW est l'un des plus prisés au monde en matière d'innovation et de nouvelles technologies.
Parmi les pays représentés, le Québec est la seule province à proposer une délégation d'entreprises et d'organismes rassemblés sous une bannière commune, Planète Québec.
Plus de 85 pays sont représentés à SXSW, qui accueille annuellement près de3 500 représentants des médias et 37 000 participants.
En 2016, des personnalités telles que Barack Obama, J.J. Abrams et Jimmy Wales y ont participé.
Les entreprises de la délégation québécoise 2017
5th Wall Agency | Affordance Studio | Agence spatiale canadienne | AmpMe Avalanche Prod | BLAX | BLVD| CART1ER | CAE | Centre Phi | CieAR Connect&Go | Connection Events | D-Box Technologies | Element AI| Elevent
Feedality | Festival de cinéma de la ville de Québec | Float4 | Fragment Experience | HEC Montréal | iXmédia
Les Solutions Amotus | Libéo | Livescale Technologies | Local Logic | Logiciels SoftCollab | Montréal International| Minority media | Nomad Coliving | Neoshop Montréal | Ooly123 | OVA | Pixel Audio| Production La Semelle Verte | Productions Neweb.tv | Questology | Shaman | SmartHalo/Les Solutions CycleLabs | Stefanka | Studio ALTKEY | Suometry | Trio Orange | Valtech | Vantrix | Vrvana